Beaded Lace Shawl with Erin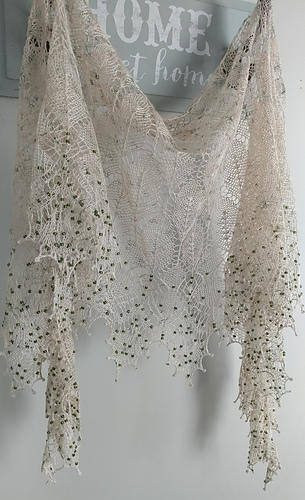 Beaded Lace Shawl with Erin
Skill Level: Intermediate
Students must already be comfortable with cast on, knit, purl, yarn overs, basic increases and decreases (M1L, M1R, K2tog, SSK), bind off
Lace knitting is not scary; it is merely knitting with increases and decreases that create a pattern of holes in your fabric. Often lace is knit with a finer yarn but not tiny needles. This creates a light and airy fabric that, once blocked, looks intricate and pretty. It is so much easier than you think it will be! Mojito is a Boo Knits pattern that is geared for the beginning lace knitter.
In this class you will learn:
reading charts

using stitch markers

complex increases and decreases

placing lifelines

working with beads

picot bind off

blocking tips
Session 1:
Garter tab cast on

Work Chart 1: reading charts, placing life lines

Begin Chart 2: reading charts, using stitch markers, placing lifelines

Discuss beads and tools: types and where to purchase
Homework before Session 2: Finish chart 2 (twice) and chart 3, purchase beads (900) and tools
Session 2:
Work chart 4: wrong side patterning and place beads

Begin chart 5: complex increases/decreases, placing beads
Homework before session 3: Finish chart 5 (be ready to bind off)
Session 3:
Picot bind off (how to place picots without "counting")

Live blocking demonstration
Supplies to be purchased before class one:
Pattern: Mojito by Boo Knits to be purchased before first class
One skein of the Gleem Lace, or one skein of Vixen Lace available in store.
Needles: Size 4, 5, 6 , 32 inch
Stitch Markers
Wednesday evenings, July 17, August 7, 21: 6:30-8:00